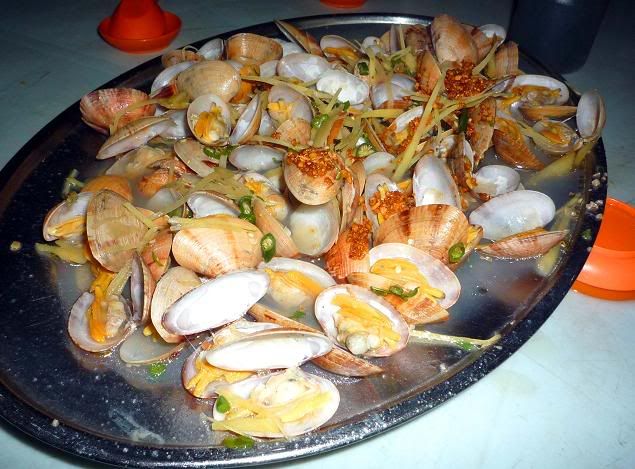 This is my friends' favourite supper place, Restoran Boston Baru in Klang. Yeah, it is a seafood restaurant which is quite popular among food hunters. The 'seung tong' (soup in Cantonese) lala is the dish which my friends like the most. They always state that, without eating the lala then is not considered as coming to Boston Baru. With the small chili, shredded ginger, minced garlic and white wine, it tastes good! Even for me who don't like ginger feel that the combination and amount of ginger they put is just nice to serve the dish tastefully.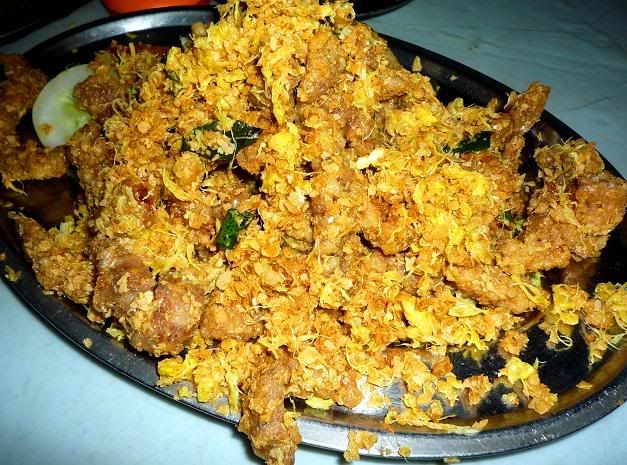 However, just to share some personal experience, sometimes the lala is served not as nice as we thought. Maybe that time the sifu (cook in Cantonese) is not in good cooking mood, hehe...
The above is also a popular dish, Nestum 'heh goh' (mantis prawn in Hokkien). It is so crunchy and with the Nestum together, yummyyyy.....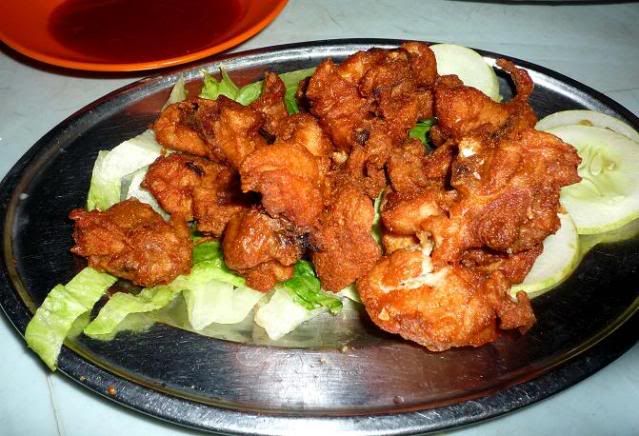 This is 'nam yu' (preserved bean sauce in Cantonese) chicken. Not bad, the preserved bean sauce taste is quite strong. Most of the time me and my friends do not order meat dishes, but only seafood and some noodles. They sell also 'ker leng min' (Indian noodle in Cantonese) and 'zhu hun gen' (fried tapioca noodle in Hokkien) which we order regularly too.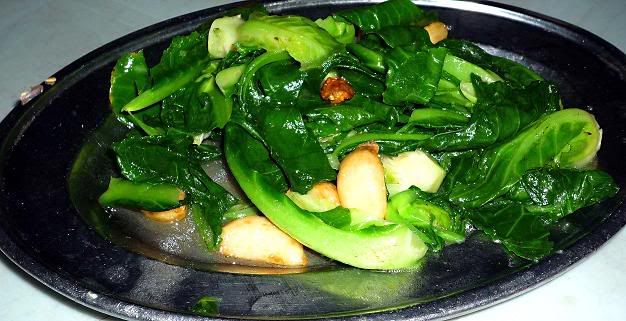 After eating seafood, we shall order also vegetables to help digestion. :) Total for all 4 dishes above are RM61, including the drinks ('leung sui' - herbal tea) that we ordered.
Me and my friends usually go there on 9.30pm onwards. Though the dishes are good in overall, but the serving time is very long. You may need to wait at least half an hour to 45 minutes to get your dishes served, but me and my friends don't mind waiting for good food while we can 'chui sui' (chit chat in Cantonese) there, hehe...

Address:
In Klang Town, somewhere opposite KWSP office